It is with deep sorrow that we acknowledge the passing of Her Majesty Queen Elizabeth II, the longest reigning UK Monarch of all time, who after the sudden loss of her beloved father King George VI, immediately pledged her life to serving our country, the realms and the commonwealth.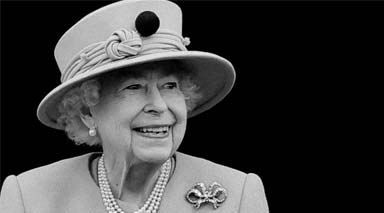 Never in 70 years and 214 days did she refrain from her duties, constantly displaying her many qualities and attributes such as kindness, humility, discipline and tolerance.
Queen Elizabeth so famously said that 'Grief is the price we pay for love'. In those few words she helped so many bereaved families because she reminded us that, alongside being our sacred sovereign, she was a daughter, a sister, a wife, a mother a grandmother and a human being. She has experienced loss and truly knows what it is to endure the pain of grief throughout her life. You can only admire the way she carried herself following the death of her dear father King George VI. She was aged 25 when she was thrust upon the helm of leadership, as society, state business and life around her continued at what must have felt like an uncontrollable pace, allowing her no time to grieve, no space to think and no privacy to cry. She upheld her duty with an indomitable spirit.
We remember fondly the 3rd December 2010, when HM Queen Elizabeth II honoured our lovely Dad with his OBE, during which they shared what seemed to be a long conversation. Maybe that's our minds lengthening what was a spectacular and unforgettable moment. He described that moment as 'surreal and magical'. Since losing our Dad in 2015, this memory has been a real comfort to us, and we don't mind sharing with you that Her Majesty's passing has caused many of our feelings from that devastating time, to come floating back to the surface. We are sure this is the way many people who have lost loved ones feel, whether recently or time ago.
We now bear witness to the beginning of a new reign as the Queen's son, now King Charles III continues her legacy. You can already see how her ways clearly form part of who he is. How proud Queen Elizabeth and Prince Philip would be!
We have been graced by our Queen's life and consider ourselves so fortunate to have been blessed with her wisdom, kindness and leadership. May you all continue to be inspired by her goodness.
We leave you with these striking words quoted by Her Majesty, Our Queen:
"'We are all visitors to this time, this place. We are just passing through. Our purpose here is to observe, to learn, to grow, to love….and then we return home'
God bless The Queen, and may she along with the multitude of angels, watch over us all like she did on earth and may God Save the King.
Jon, Simon, our families and the Albins Team